New Couples Workshop: The Seven Principles for Making a Marriage Work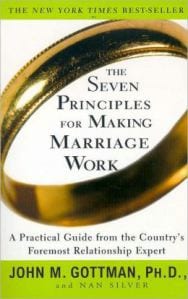 [vc_row][vc_column][vc_column_text]I am pleased to announce that this valuable workshop experience will be held on January 17, 2015, 9:00 a.m. to 4:30 p.m. at a private venue in Edmond, OK. The cost for this workshop is $300 per couple. Your registration includes the book The Seven Principles For Making Marriage Work, 2 companion workbooks, and light snacks throughout the day. Lunch will be on your own as a couple. Space is limited. Contact Angie at angie.ridings@gmail.com for details or to sign up.
The Seven Principles Program for couples is a workshop based on the internationally acclaimed research of Dr. John Gottman as presented in his New York Times Bestselling book The Seven Principles for Making Marriage Work.
Is this workshop for us?
Couples that would benefit from this workshop:
Pre-Engaged
Pre-Marital
Everyone from newlyweds to seniors
Those who wish to enhance a good marriage
Those needing better conflict management tools
Couples that this workshop is not suited for:
Severe relationship distress
Emotional abuse
Domestic abuse
Active addictions
Serious mental health problems in one or both partners
What will we learn in this workshop?
What the workshop is about:
Seven Principles Program description
The research foundation of the program
Proven tools to help couples
Improve friendship, fondness and admiration
Enhance romance and intimacy
Manage conflict constructively
Gain skills to address perpetual and solvable problems
Create shared meaning
Maintain gains throughout a lifetime
Format includes lectures and private couple exercises
What the workshop is not:
It is not therapy
It is not an open sharing of personal problems. All exercises and discussions will occur privately between you and your significant other.
Your trainers for the workshop are Angie Ridings, M.Ed., LPC, LADC, CSAT, CMAT and Cindy Barnhill, M.S., APRN, CNS. Both Angie and Cindy are approved 7 Principles Educators by the Gottman Institute.
[/vc_column_text][/vc_column][/vc_row][vc_row][vc_column][vc_column_text][easy-social-share buttons="facebook,twitter,google,pinterest,tumblr,print,mail" counters="0″ counter_pos="left" total_counter_pos="left" hide_names="no" fullwidth="" fixedwidth="" sidebar="" sidebar_pos="left" popup="" float="" template="metro-retina"][/vc_column_text][/vc_column][/vc_row][vc_row][vc_column][vc_separator][/vc_column][/vc_row][vc_row][vc_column][vc_basic_grid post_type="post" max_items="3″ orderby="rand" item="76259″ grid_id="vc_gid:1441325994803-550eed22-62e4-7″][/vc_column][/vc_row]