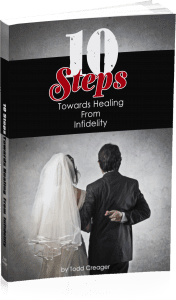 [vc_row][vc_column][vc_column_text]It's only fair to share…
I've been helping couples survive and thrive after infidelity for 30+ years in my practice.
Over the years I have noticed that there is a difference between why women cheat and why men cheat. Watch the video below where I explain the three reasons why women cheat.
I have one piece of advice for women: don't be afraid to communicate with your partner and tell him what you need. Looking for more resources on infidelity? Check out my infidelity resource page here on my website.
I have a 90% success rate helping couples survive and even thrive after their relationship has suffered from one or both partners cheating.
Here's to getting the love you want!
I've just released my newest resource to help couples heal from infidelity – 10 Steps to Healing From Infidelity, get a copy and find out the 10 steps that will help you or a loved one start healing from infidelity today.
CLICK HERE to get your FREE copy today!
It's only fair to share…[/vc_column_text][/vc_column][/vc_row][vc_row][vc_column][vc_column_text][easy-social-share buttons="facebook,twitter,google,pinterest,tumblr,print,mail" counters="0″ counter_pos="left" total_counter_pos="left" hide_names="no" fullwidth="" fixedwidth="" sidebar="" sidebar_pos="left" popup="" float="" template="metro-retina"][/vc_column_text][/vc_column][/vc_row][vc_row][vc_column][vc_separator][/vc_column][/vc_row][vc_row][vc_column][vc_basic_grid post_type="post" max_items="3″ orderby="rand" item="76259″ grid_id="vc_gid:1443562003706-b245d5e8-a35b-5″][/vc_column][/vc_row]