Live A Magical Life Of Love, Health and Wealth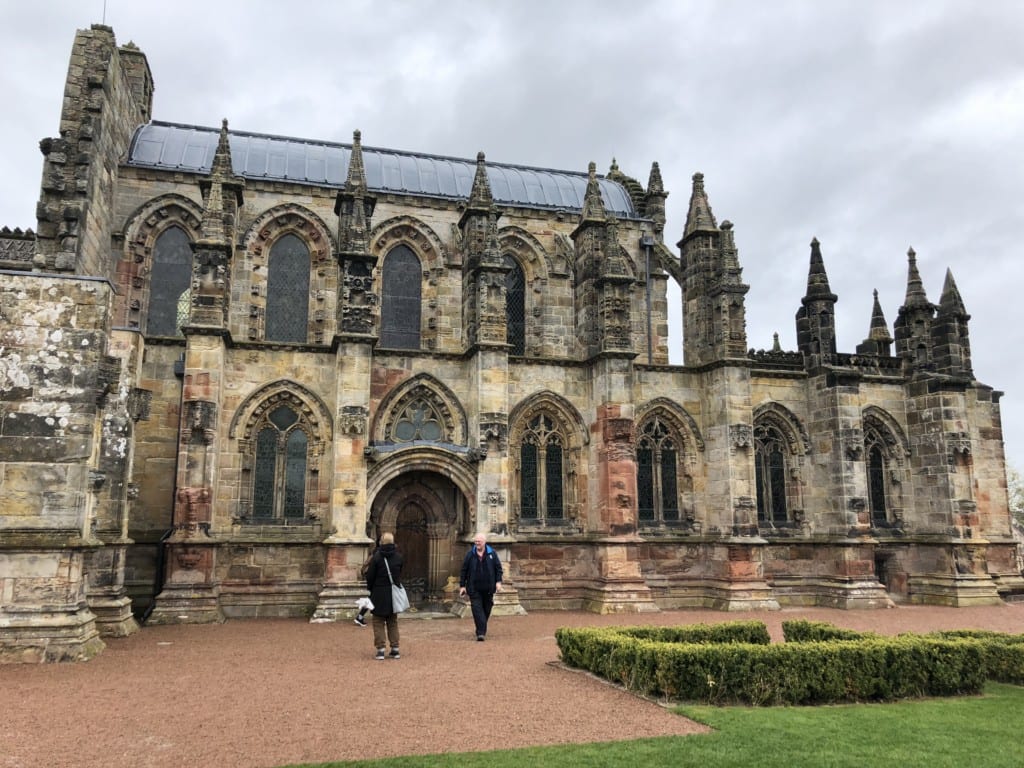 I used to struggle with finances, bills and trying to make my mortgage or rent payments on time. Not anymore! I have found the secret sauce to manifesting. Tonight on Greatest You Telesummit, I share what I have learned and walk you through all the details.
You will learn what to say exactly!
How To Say It
What Not To Say
How we block ourselves
How beliefs govern our lives
What is missing from your manifesting so you get it
Why time isn't a factor
Life is magical for us when we get out of our way. Old patterns of self-doubt or a lack of trust keep us from having everything we ever wanted and more! Each of us has the ability to manifest our dreams. This is how:
Stop Limiting Yourself With Closed-ended Statements:
This will never happen
Life is hard
Nothing good ever happens for me
I am not lucky
That won't work
There is no way
This is impossible
No one will ever pay me for that
I'm too (old, broke, fat) ________ (fill in the blanks)
I can't afford this
Maybe you can relate to setting up roadblocks like me, with negative and limiting beliefs about myself, love, life, and men that blocked me from having what I wanted. Or maybe you put time limits on what you wanted thinking that things take a long time to deliver. Part of what has unfolded for me is a wish to expand my reach into the world to help thousands of people awaken. My dream came true when I was invited to not one, but five Telesummits within weeks!
You can enjoy this fabulous FREE Telesummit with Dee Wallace, myself and 24 fabulous intuitive healers, each one of us give you a FREE gift.
To Get Exactly What You Want do the following:
Say This Instead:
I feel lucky
My good comes to me easily and effortlessly
I am enough
I am worthy
I am deserving
I can have whatever I ask for
The universe is always orchestrating my life for my highest good!
How can I easily and effortlessly have ________________?
My good arrives on time every time!
My reality delivers what I want immediately
How can I easily and effortlessly have the money I need for ________?
We can have exactly what we want when we want it. Here's proof from my one-week trip to Scotland.
What We Intend Shows Up Effortlessly!
In 2017, I put out to the universe that I wanted to be out in the world in a bigger way: 5 Telesummits showed up recently that did just that. Hundreds of Thousands of more people are hearing about me quickly. What's in it for you? Free gifts, free healing and free resources that can help you. I'm raising my energy even higher. Here is the latest. You don't have to take part if you don't want to, but why would you hold yourself back from your good? Unless you don't want your life to improve, that may be a reason.
Manifesting Made Easy
I asked, "How can I easily and effortlessly do destination retreats where I would love to travel?" I knew I needed to focus on what I am best at; transforming people's lives.
A high school friend messaged me and asked if I was ready to start doing destination retreats in Scotland? He is a tour guide and travel agent who returned to his roots in Scotland. Allan Jenkins is a really nice guy, too nice for me in high school because I was busy attracting bad boys who hurt me. All I had to do was buy my plane ticket and he paid for the rest! Holy cow! I expressed gratitude.
Asking For What You Want And Getting It
When I drove to the parking deck to park my car at the LA airport, I simply said, "I'm feeling lucky!" I wanted the trip to be positive from beginning to end. I found a parking spot in a prime location right where I wanted it where it is usually full. I didn't say to myself, "I'll never find a spot here!" I expressed gratitude for my excellent luck finding a parking spot.
After parking, I entered the bus terminal to the airport there were only a few people scattered on the chairs in the waiting room and no one standing in line for the bus. I bought my ticket thinking I'd miss the bus and have to wait and the woman at the counter told me to hurry before the bus left. BOOM! Another win, no waiting! Intending good luck was really working!
The entire trip to Scotland was magical with synchronicities, the exact same people showing up repeatedly at the different places we visited and we visited plenty. We saw ancient castles, churches, mountains, streams, lochs, glens, battlefields, standing stones, burial cairns that were over 4,000 years old and natural beauty. I enjoyed what was around me. We ate fabulous food drank tea and enjoyed ourselves.
For those interested in Scotch. I discovered the reason the golden beverage is made in Scotland; the delicious fresh mountain spring water. Imagine drinking water straight out of the faucet, it was the best tasting water I've ever had. Tea tastes better because of the delicious clean water. There is no pollution in Scotland, instead, your lungs are filled with fresh clean air.
We stayed in gorgeous B&Bs where a lovely little tea service was set up in my room with everything needed from an electric kettle, teapot, milk, tea selection, biscuits, cup and saucer and teaspoon. Breakfast was amazing and included Scottish porridge, yogurt, fresh fruit, back bacon, sausages, haggis, potato patty, sauteed mushrooms, tomato, toast, tea or coffee.
Magic was around every corner. On my last full touring day, Allan asked if I had ever heard of Rosslyn Chapel? I never mentioned it to him because I thought it was too far out of the way and he had done so much already. Visiting this chapel had been a dream of mine since 2003 when I read The Da Vinci Code. Without asking my wishes were being granted.
The universe knows what we want when we are clear on what we desire. When we are wishy-washy going backward and forward, changing our mind we are stuck in limbo-land without the limbo dance bar and Trinidadian music!
Allow The Universe To Take Care Of The Details
The weather isn't anything we can govern, so don't worry about it
Instead, ask for a pleasant trip and good luck.
Allow the universe to take care of the rest
Trying to control everything means we are in fear
Be in a state of allowing
Notice people, that show up repeatedly
Notice what others are doing
Notice what you feel, see and hear
I saw a handsome young man in a kilt doing a video for a documentary outside the chapel. I congratulated him when he was done for nailing his part. Two men were manning the camera and another holding the iPad with his script for him to read. I began to walk away when in my head I heard, "Get his picture." I stopped and turned around. I asked if he minded a photo, and then asked if he minded if I sat on his knee? He was quite amenable and had a good laugh about it as you can see in this picture.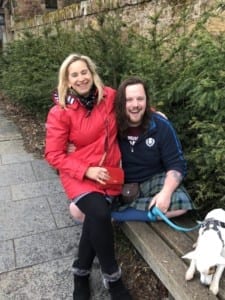 The entire trip went off without a hitch the rainy weather forecast every day ended up being only one of the seven days and a few sprinkles here and there when we were inside. Yes, it was cooler than California it just didn't bother me. Around every corner was a fabulous view a village with history, cottages, and villages that were breath-taking. We drove hundreds of miles looking for the best spots to awaken, inspire and captivate my intimate group of retreat goers for October. Allan and I decided to repeat this and begin offering spiritual tours and retreats together in Santorini, Italy, and Bali eventually. He'll be the tour guide, while I offer the spiritual transformation.
Allow Rather Than Control
stop worrying about how things will happen?
allow others to experience what they are experiencing
ask questions
watch the closed-ended statements that limit your experience (see above)
After we had our final planning dinner together, I went off to my room to unwind. I closed my eyes in bed on my last night in Scotland saying prayers of gratitude for all that Allan had done for me, the experiences and beauty. My guides asked if anything was missing? I replied the only thing I didn't get was a kiss from a handsome Scottish gentleman. The next morning events unfolded Divinely orchestrated because I listened, a man asked and I said, "YES!" I was kissing a beautiful Scottish man in my hotel room who looked exactly as I imagined him wearing my favorite a light blue well-pressed dress shirt and tie (without sex, I might add!)
Ask and you shall receive my friend! Let me show you how it's done!
To hear what happened, you'll have to stay tuned for my next installment and video about how to get exactly what you want and need at exactly the right time!
Enjoy this Intuitive Radiant Telesummit series for free complete with FREE gifts from Dee Wallace the movie star turned healer from ET, myself and twenty-four powerful healers.
Can't do this on your own? You don't have to. Let's set up a time to talk. I'd love to hear about your situation and see if I can help. E-mail me at JenniferElizabethMasters@gmail.com and we'll set up a time to chat.
Published in Personal